DAYLIGHT
600W Horizon
Specifically developed for DAYLIGHT 600W lamps & power packs
DAYLIGHT 600W Horizon Remote
Wide Angled 600W CMH Reflector
The DAYLIGHT 600W Horizon Reflector is designed to give extremely uniform PAR levels, over a wide-ranging area.  Ideal for use in your existing HPS grow rooms, giving you all the benefits of full-spectrum lighting.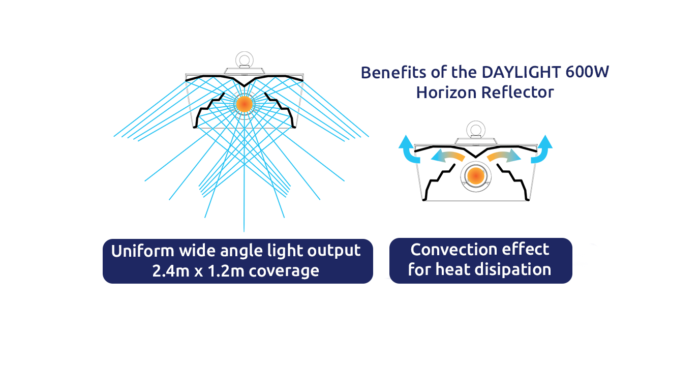 Features:
Efficient dual-wing reflector made from 98% reflective material. Balanced hooks for easy hanging. Designed for DAYLIGHT E40 600W CMH lamps. Can be used with any E40 HID lamp. Super wide angle 2.4m x 1.2m coverage.
Benefits:
Dual-wing design maintains a cooler lamp and gives uniform coverage over a wide area. Perfect for supplementing HPS grow rooms.
Specifications:
Weight: 3.5Kg
Dimensions: 380mm x 210mm x 200mm. Cable length: 5m.